Xi's Political Rivals Run For Cover: "A Purge Is Coming - Be Careful"
Submitted by
Dave Hodges
on Tuesday, September 8, 2020 - 11:17.
Nikkei Asian Review has more details on Xi Jinping's ongoing purge in preparation to establish total authority over China's Communist Party, including related to some recent key, deeply symbolic acts:
Also on Aug. 26, Xi convened a meeting of 300 or so senior police and state security officials from across the country at Beijing's Great Hall of the People.

In a pompous ceremony, Xi handed to the police force a newly designed red and blue flag.

The red portion, occupying the top half of the flag, symbolizes the party and is meant to portray the police's absolute loyalty to the party, it was explained.
It ultimately means that for the first time the country's police forces are under Xi's direct control, instead under the immediate oversight of the government's State Council.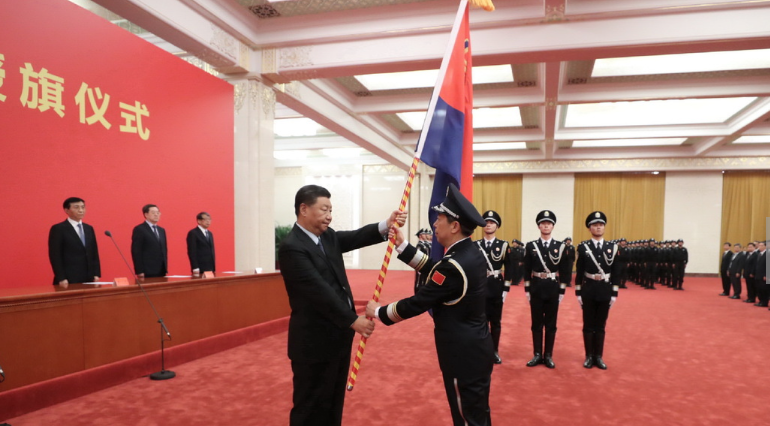 The Nikkei report links Xi's penchant for bestowing new flags on state enforcement entities as underscoring their total loyalty to the party, which increasingly means himself, also given also significant rumors Xi is looking to resurrect Mao Zedong's historic 'Chairman' title to replace his slightly less impressive title of General Secretary of the Chinese Communist Party.
The report notes further:
Likewise, the People's Armed Police -- a paramilitary organization responsible for internal security, riot control and anti-terrorism efforts -- has been placed under the full command of the Central Military Commission. It had previously been under the military and government.

Back in January 2018, Xi also conferred a new flag to the People's Armed Police; one that was different from the People's Liberation Army flag.

Each time Xi seeks to take control of a branch of law enforcement, he confers a flag.

Top trusted officials handpicked by President Xi have expressed worry about "two-faced people" as well as loyalty and political discipline.

For more go to Zero Hedge