A Major Terror Plot Targeting Trump Supporters Has Been Uncovered
Submitted by
Dave Hodges
on Tuesday, October 20, 2020 - 14:03.
A Funny think happened on the way to writing about the CHICOM inspired and emerging civil war In Mexico which is a prelude to a Red Dawn invasion of the United States. I have been warning about an impending TET Offensive that will visit our country courtesy of leftist subversive forces. This prediction is gaining momentum courtesy of several communications that have crossed my path in the past few days.
Three days ago, the following anonymous message was sent to me:
Dear Mr. Hodges October 17, 2020

For reasons that will be apparent, I will not specifically identify my employer. It would not take a lot of "common sense" to make an accurate and educated guess as to who I am affiliated with.

I am writing to you because in the past you have indicated that if the Democrats do not feel they can win, their allies,extreme subversive groups, will ramp up their violent activities. You are correct.

We have intelligence which leaves little doubt as to the fact that certain Trump supporters are in the process of being identified and targeted. The information suggests that there a number of high profile targets. Members of your alternative media can expect to be targeted. Private individuals who have donated to President Trump will be harassed and possibly acted upon. Please note that the list of donators is publicly available to anyone. We expect that businesses that can be associated with the President's donation list will be targeted in a manner consistent with what we have seen in Minneapolis, Portland and Seattle.

You are receiving this letter because I do not believe that my employer is going to act upon this intelligence until after the targeting has begun. You are a media figure that can be trusted as I am referencing your handling of the "Wrecker" interviews.

I am not going to ascribe motivation, I will leave that to you as I ask you to disseminate this information in a timely manner.

I will not self-identify but with all that is going on, this information must see the light of day. Rest assured that you will not be the sole source of this warning. If you are wondering about my motivation it is simple. It is one thing to conceal possession of material that would implicate certain public figures in treasonous actions. However, I will not a party to actions which has the real potential to make sacrificial lambs of innocent Americans. I did not sign up for this.

If you are wondering if I fear discovery, I do. I am depending on the fact that my precautions will be enough to get some of my rogue associates to look elsewhere. I have learned enough to accurately state that it is highly likely that if Trump is declared the loser of the election he will not be serving until the Inauguration. President Trump knows too much and he could expose much. An accident? A coup? I am not certain, but I am sure he will not be serving past Thanksgiving. Please do not disseminate the rest of this message…..
Some are wondering why I have sat on this information. First of all, I am attending a funeral and my time has been limited. I found the letter to be interesting, but far to vague to act upon.
Last night, after everyone went to bed, I was writing a Part II report on the lead-up to a Red Dawn invasion as I was covering how the CHICOMS are destabilizing Mexico because AMLO is not cooperating with the Chinese. The release of this material is going to take a temporary backseat as I release what seems to be confirming information that, in part substantiates the anonymous letter that I have come to believe came from an unidentified FBI agent.
The Plot Surfaces In New Hampshire
The first verifiable indicator that Trump supporters are at risk to having their home burned down and worse, came from a lady in New Hampshire:
Hi Dave, this happened in a town near me, in Milford NH!
Thanks for all you do, and God Bless❣️

Threatening letters sent to homes of Trump supporters, police say

https://wmur.com/article/threatening-letters-sent-to-homes-of-trump-supporters-police-say/34419218?src=app
I opened the transcript, and here is an excerpt of what I found from the TV report emanating from WMUR TV with reporter Tim Callery
A video of the news report is available at the link listed above.
TAKING THIS VERY SERIOUSLY AND THEY ARE NOT THE ONLY DEPARTMENT INVESTIGATING. >> YOU HAVE BEEN IDENTIFIED AS A TRUMP SUPPORTER.

TIM: THIS IS THE LETTER MAILED TO THE HOME OF KELLY, A MILFORD RESIDENT WHO WISHED TO BE IDENTIFIED ONLY BY HER FIRST NAME. >>

"YOUR ADDRESS HAS BEEN ADDED INTO OUR DATABASE AS A TARGET FOR WHEN WE ATTACK SHOULD TRUMP NOT CONCEDE THE ELECTION. "

TIM: THE ANONYMOUS AUTHOR GOES ON TO SAY THEY HOPE KELLY'S HOME INSURANCE HAS FIRE COVERAGE. >>

"…POLICE SAY THIS SAME LETTER WAS MAILED TO OTHER HOMES THAT HAVE SIGNS SUPPORTING PRESIDENT TRUMP. THE DEPARTMENT IS NOW INVESTIGATING AND HAS CONTACTED THE ATTORNEY GENERAL'S OFFICE… POLICE CHIEF BILL QUIGLEY ALERTED THE U.S. POSTAL INSPECTION SERVICE, AND SAYS WHOEVER IS BEHIND THE LETTERS COULD "FACE SERIOUS CHARGES. NOT ONLY WITH US CRIMINAL THREATENING ON A FELONY LEVEL, BECAUSE OF THE THREAT OF BURNING HOMES DOWN AND CAUSING INJURY, BUT ALSO WITH THE POSTAL INSPECTORS, SOMETHING ON THE FEDERAL LEVEL.
Because the MSM is involved as well as local New Hampshire law enforcement, I am a little more that curious. However, this is only one location and it could be a prank, although law enforcement seems to be taking it very seriously.
Before the night is over, a person from my audience sent information from Hal Turner's radio show which explicitly speaks to the same terrorist activities as is being investigated in New Hampshire and the presumed FBI agent anonymously sent to me.
Bad News Comes In Threes
People in Kansas City, MO woke up this morning to written THREATS being posted on their homes. The letters say the home has been TARGETED FOR ATTACK in CIVIL WAR over Trump!
More proof comes from twitter which contains confirming information (I am guessing that Jack Dorsey forgot to censor this tweet as he did with the NY Post revelation about the Biden crime family). This tweet also appears on Hal Turner's site.
These fliers are being left in Kansas City neighborhoods. This on top of our former KS National Committeeman getting run over on his yard due to his Trump sign. Please pray that America will reject this violence and hate.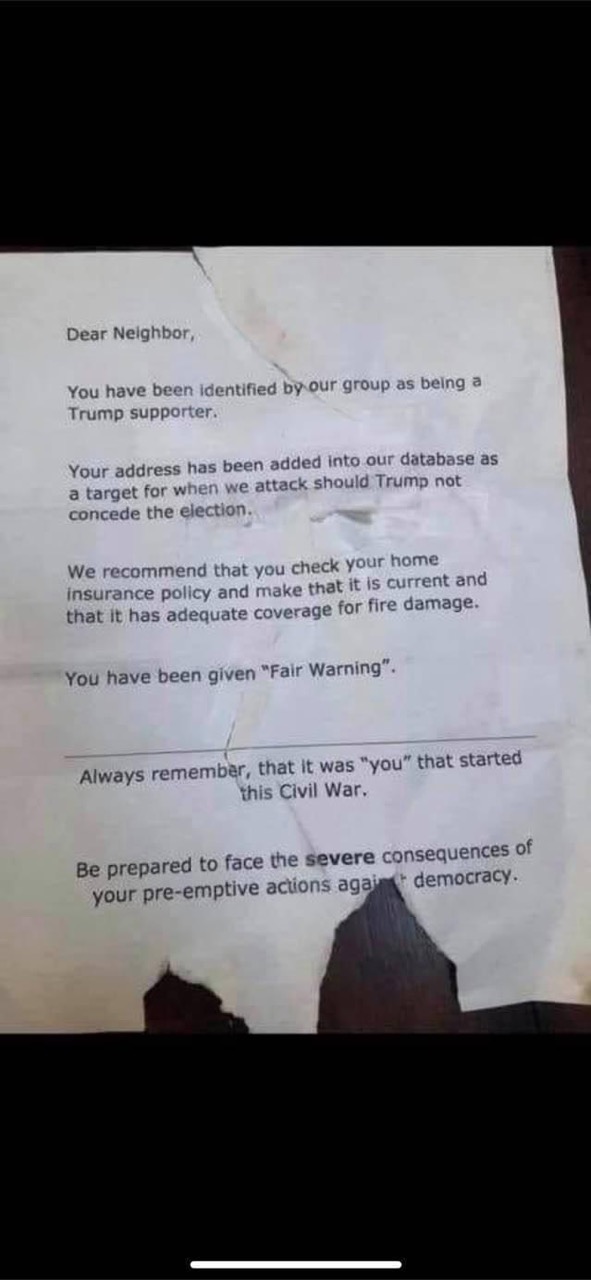 So, what are we left with? Now, New Hampshire is a long way from Kansas City which clearly makes this a national threat. The tweet represents the strongest evidence that there is a nationally orchestrated terror plot being directed aginast Trump supporters. This is the beginning of the ramping up of terrorist street activities involving Antifa. This material points to a possibly deadly attack being planned against innocent American citizens. The following is a summation of what we know at this point in time.
1. We have an anonymous tip from a presumed federal agent (not Wrecker).
2. We have law enforcement and mainstream media involvement in New Hampshire of the same issues.
3. The tweet from Kansas City and Hal Turner's posting of the terrorist material closes the loop on the fact that is a nationally orchestrated violent plot that is in the process of being carried out.
But wait, there is more to report. Another member of my audience sent me the following message and it is very telling as evidenced by the following link:
They may be getting their addresses and names from this website: https://donaldtrump.watch/ previously named Racist.Watch which is using the public database of Trump Campaign donors to compile a list of those who the BLM/Antifa/Demonrats deem opposition to them in this civil war.

I would suggest all neighbourhoods work together in a neighbourhood watch type style, along with local militia and Police/Sheriffs to defend your neighbours and neighbourhoods, urge well trained gun owners to become deputised to also help, and finally flood trump with this information, so he can help at the federal level.

God bless you all and God bless Trump and the United States of America!
Click on the link in the above email. It is a website that is threatening people who have donated to Trump supporters. Personally, I have identified two people who I know and they are on the list. I have notified them of the threat and told them to take defensive action.
Criminal activity is already in play with the threats to burn down Trump supporters homes and this constitutes a clear and present danger to all conservative Americans. We can easily lay this at the feet of the ciminal Democratic Party and the Deep State that they represent. If one did not believe that the civil war has not begun, perhaps you should share this article.