Act of War! Key Mexican Senator Calls For the Invasion of the 10 American States
Submitted by
Dave Hodges
on Thursday, June 6, 2019 - 16:37.
For the record, I come from immigrants. America needs immigrants to supplement its falling birth rate of 1.7, in which 2.1 is needed. However, desiring immigration does not mean advocating for the present invasion of our border and the threat that this poses to our country. Well-regulated immigration in which EACH immigrant is screened for terrorist and criminal activities is needed prior to admission. Further, Mexico should bear the housing and cost for all asylum seekers before they can be processed in the United States. It would be interesting to note how quickly these greatly inflated numbers would decline.
Mexican President Obrador is pretending to be dealing with the Trump administration in the middle of the threat to impose tariffs on all Mexican exports to America of 5% and increasing after that if Mexico continues to facilitate the entry of unsavory characters to the United States. What the mainstream media (MSM) will never tell the public is that a significant number of terrorists, criminals with felonies, drug dealers, child sex traffickers, gun runners, assassins and paramilitary as well as military troops are crossing our Southern border in great numbers right along with legitimate people who are seeking the relative safety that crossing the border offers some immigrants. However, as we know and has been documented by the federal government, 90% of all asylum seeker claims are completely false. These people are distributed around the country while they await trial and the vast majority of them never show up of trial and future disposition. The whole illegal immigration system is the largest national security threat faced by the innocent people inside the United States. You and your neighbors have done nothing to deserve what is happening and what is going to happen. But many of you are going broke and some of you are going to go broke if because
The Deep State, their globalist benefactors, and the minions for these two groups, the Democratic Party, are reaping benefits through the facilitation of this process. Make no mistake about it, this is an attack upon America by forces which want to see America become vulnerable to a takeover.
Tariffs and the Border Wall
From where most of us sit, who intimately aware of the dynamics of our border situation, we already know that the border wall, once proposed to be 30 feet high has changed to a wall that would help to repel that a light infantry invasion which is what is coming next and it is something that the CSS has already reported on. Also, with the massive tunnel system built by the cartels and their terrorist allies (eg Muslim Brotherhood, ISIS, etc.), the border wall is largely only a symbolic. Also, as I have pointed out before, the tariffs don't change behaviors of nation states just as sanctions don't. The gesture is symbolic. The only people that ever suffer under these conditions are the people on the edge of poverty. Everyone else, with money, are able to navigate around the situation. Mexico is a narco-terrorist state and the bulk of their real income pales in comparison to their organized gangster activities opposed to the sanctions and tariffs that could be placed upon legitimate businesses. MOST of the Mexican politicians are in bed with these criminals.. or they are dead or soon will be. Since the formation of the drug cartels, 500,000 people have been murdered in Mexico. This is what the Democrats are bringing into our country. And this does not even cover the military and paramilitary threat to our country.
Last week, I reported that every federal agency source that I speak with is privately calling for military intervention into Mexico. They immigration issue is a bigger threat than China and Russia. Mexico is responsible for the devastating economic attack upon our country that illegal immigration brings. They are also responsible for the crippling effects on our economy that illegal immigration leads to. Many, most of the immigrants that come to America are wiring significant amounts of earned monies back home and are paying little to no tax. You, the American taxpayer get no benefit from their labors as you pay for their presence in your/my country.
Countries have gone to war for significantly less. The drug trafficking is responsible for hundreds of thousands of deaths each year brought about by the presence of many illegal immigrants and some of their criminal activities which have proven fatal to many in our society. Further, as I have already pointed out, there is a significant terrorist and military threat being promulgated against you, your children and the country as whole. These are internationally agreed upon acts of war. In the conclusion of this article, I will deal with what an appropriate military course of action would consist of.
From Bad to Worse, America
For several Mexican politicians, who are apparently on the payroll of the cartels and the terrorists, such as Senator Félix Salgado Macedonio, are actively calling for the invasion of several American states. This Senator is dumber than a box of rocks as some of the states he mentioned were not lost to Mexico in the 1846 war.
I took the liberty of pulling this Senator's web page with regard to his Senatorial position, no doubt funded by narco-terrorist funds.
Av Paseo de la Reforma No. 135, Hemiciclo Piso 3 Oficina 9, Col. Tabacalera, Alcaldía Cuauhtémoc, Cd. de México, C. P. 06030.
Tel: 01 (55) 5345 3000 Ext. 3112
E-mail: [email protected]
Integración en Comisiones
Presidente(a):
Integrante:
Comisión de Estudios Legislativos Segunda

(HE GETS TO VOTE ON THE DISTRIBUTION OF FUNDS TO VARIOUS ENTITTIES (IE FRONT GROUPS FOR THE DRUG DEALERS, CHILD SEX TRAFFICKERS AND TERRORISTS WHO MEAN YOU AND YOUR CHILDREN HARM.

Comisión de Relaciones Exteriores América Latina y el Caribe

- (HE IS ON LEGISLATIVE COMMITTEE THAT IS IN LEAGUE WITH OTHER CENTRAL AND SOUTH AMERICAN COUNTRIES THAT ARE SENDING THE HORDES OF IMMIGRANTS TO AMERICA. THIS MAN IS A FACILITATOR OF THE INVASION OF THE UNITED STATES. HE IS A CLEAR AND PRESENT DANGER TO THE NATIONAL SECURITY OF OUR NATION AND SHOULD BE CONSIDERED TO BE THE SAME THREAT AS HITLER OR TOJO WERE DURING WORLD WAR II. HE IS AN ENEMY COMBAT AND IS SUBJECT TO ARREST UNDER THE NDAA, AS PRESCRIBED BY LAW AND CARRIED OUT WITHOUT DUE PROCESS. EXTRADITE THIS WAR MONGER AND ENEMY OF AMERICA AND STICK HIM IN A DEEP, DARK HOLE AS PRESCRIBED BY LAW.
Senator Macedonio has proposed taking back (California, Nevada, Texas, Utah, New Mexico, Arizona, Kansas, Oklahoma, Colorado and Wyoming). Taking back Wyoming, why not Alaska and Hawaii?
On Twitter, Macedonio stated, "Mexicans are in our territory. We are going to recover our territory that was stolen…. Viva AMLO, bastards (paying homage to the Mexican President)"…. Here is what he meant…
An Insider Eyewitness Speaks Out
In addition to what Paul Preston revealed as to the brains behind the Calexit movement, WHICH IS TO EXTRICATE CALIFORNIA FROM THE UNION AND PLACE UNDER THE CONTROL OF THE UNITED NATIONS, he revealed that he has a man on the inside, let's call him "Mike", as Paul Preston calls him. "Mike" not only reported on the attendees of these Calexit meetings, this insider reports and CONFIRMED the former Obama administration has had three members in attendance and the administration of the Mexican government is involved because their consulate was in attendance as well as representatives of George Soros, is in support of this movement.
At the time I interviewed Paul, he was gravely concerned for the fate of the insider. At the time that this interview was conducted, "Mike" as Preston calls him. Revealed that plans were discussed to unleash the imported gangsters to perform acts of violence against public mass gatherings of white people as well as to target black gang members. Can you say Palestine comes to California? The entire goal is to force a United Nations intervention, in the interest of humanity under the Kigali Principles that Obama signed on to before leaving office in 2016.
Brief History of Reconquista Atzlan
There is no legal mechanism in which a state can legally withdraw from the United States. I have written about this before as this plan to leave the United States is known in Mexico as the Reconquista Movement, referred to by Senator Macedonio, meaning to reconquer what was forfeited from Mexico following the Mexican American war of the 1846 to 1848 in which the United States purchased land from the defeated Mexico. La Raza and its first cousin MECHA espouse Trotsky's principles for overthrowing all 8 state governments involved the taking of what once was Mexican land. The Reconquista movement is so controversial (i.e. the announced intention to expel all Whites from an 8 state area), that the plan has temporarily been reduced and morphed into a plan called Calexit, which used to be referred to at one-time as "YES, CALIFORNIA!" The Reconquista Movement once looked like this on paper: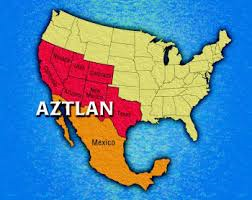 Conclusion
Stop and think about the implications of these interconnections. If we ever wondered how America could be attacked by Russian proxy forces, we have stumbled across the answer to that question. The planned insertions of Special Forces in the Midland and Odessa areas speak to the anticipated asymmetric warfare being anticipated in the early part of the conflict. Paul Martin has repeatedly told me over the past several months that Texans should be prepared to defend themselves because they are going to be overrun. Additionally, this sets up another terrifying possibility. That possibility would be a "Red Dawn" type of assault upon the United States, in the second phase of this operation, by Russian allies in the region and this will be the topic of the next part of this series. Make no mistake about it, I am talking about preparing to stop the coming Red Dawn invasion. Senator Macedonio is a participant in this plot. Look, again, at this Senatorial committee assignments. He is at the center of it all.
I will provide more detail in a later article, but for now, suffice it to say that we need to send in the military to seal the border between Guatemala and Mexico, destroy all incoming tunnels to the United States. The US needs to blockade all Mexican coastlines and intercept all foot traffic crossing the border and force the downing of all planes coming into America. This is the only way to stop this growing invasion threat. Thanks to Steve Quayle for bringing this Senator to my attention.